Why choose it:
Stimulates skin rejuvenation mechanisms
Regenerates the epidermis
Activates new collagen production mechanism
Adds volume in fat-free areas
Combats dark circles
Eliminates skin sagging
Improves marks and scars
ΡRΡ(Platelet-Rich Plasma) mesotherapy, or autologous mesotherapy, is a liquid treatment that enhances facial firming and rejuvenation. Using a material that comes from our body (plasma), it offers a natural alternative to other treatments.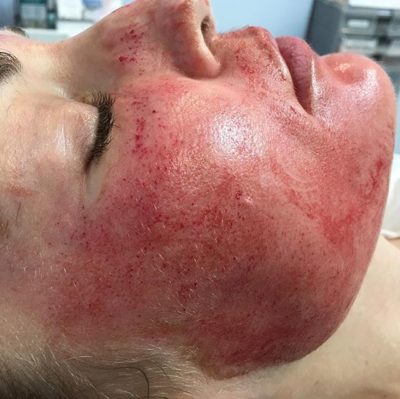 With a special solution, plasma proteins and growth factors are isolated, and when they come in contact with the skin, they activate its regenerating properties, combat skin sagging and make the face smoother and softer. The results are visible after about 3 weeks.
Mesotherapy is one of the most sought-after facial treatments in recent years, and works by infusing ingredients within the mesoderm, the middle layer of the skin, using very fine and specially designed needles.
Why is mesotherapy used;
Although Mesotherapy is used to treat a broad spectrum of injuries, illnesses and medical conditions, it is also employed to treat cosmetic conditions, including acne, cellulite treatment, stretch marks, scars and wrinkles. It can also be used to reduce fat and to improve the body's contour.
Skin anti-ageing and facial rejuvenation with mesotherapy. Subcutaneous or intradermal vitamin injections rejuvenate cells, making them more active and thus stimulating the production of collagen and elastin.
Face mesotherapy is an intelligent approach for the treatment of sagging, and wrinkles on the neck and face that appear as time goes by. Moreover, it slows down the progress of wrinkles and helps in reducing fat beneath the chin, it eliminates the free radicals of the skin and enhances firming of saggy skin. Even eyelids can be improved, with minimal downtime and without the abnormal appearance after cosmetic surgery procedures.
You can start anti-ageing treatments around the age of 25 or 30 so as to prevent wrinkles from forming. Treatments applied on the face, neck, hands and arms should be repeated several times each year.
Mesotherapy to reduce or eliminate cellulite and fat. Mesotherapy treats three factors involved in cellulite formation. Your doctor creates a specific formula to reduce the fat in your cellulite, improve impaired circulation and break down damaged connective tissue – thereby smoothing the skin's surface. Mesotherapy can treat cellulite located anywhere on the body.
Mesotherapy – Weight loss and local fat reduction. Our customised formula prevents cells from storing fat, and helps break down existing fat cells. Fat reduction targets double chins, love handles and any other areas displaying fat pockets.
Where is mesotherapy applied?
Mesotherapy is mainly used for the treatment of the following conditions:
Cellulite
Fat pockets
Alopecia –seasonal hair loss, hair loss due to medication or hormonal disorders
Face mesotherapy | Wrinkles
Neck or breast wrinkles
Melasma and other dyspigmentations
Body contour
Face Mesotherapy | Hydration
How is the procedure performed?
The technique involves the injection of certain substances, via a very fine needle (30G), underneath the dermal layer of the skin into the subcutaneous fat tissue in the area selected. The combination of substances injected depends on the concoction prepared by the doctor but may contain very small quantities of plant extracts, vitamins, enzymes, nutrients, and medicines, such as vasodilators, non-steroidal anti-inflammatories and antibiotics.
Who can have mesotherapy?
Every person between 18 and 76 years old. Most healthy men and women are candidates for Mesotherapy. It is not recommended for pregnant women, insulin-dependent diabetics or those with heart disease, a history of stroke or ischemia, cancer, skin lesions, allergy to any components of Mesotherapy or those who take blood thinners.
Is it painful?
Most patients report that the procedure of mesotherapy on the face is not painful. However, some patients feel some discomfort. Pain and discomfort are minimised with the use of a very thin needle, while sometimes a local anaesthesia may be applied.
How many sessions are required?
The duration and frequency of treatments depends on the type of mesotherapy and the severity of the problem. Usually 5-10 treatment sessions are required with an interval of 15 days, depending on the parts of the body to be treated. Each session lasts about 20 minutes. After the end of the treatment cycle, maintenance sessions may be needed.
When will I see the results?
The results vary depending on body type and the condition being treated. On average, patients notice visible improvement after two to three sessions. In some cases, patients see results after the first session.