What are dark circles?
Dark circles under the eyes can be due to a number of factors,such as heredity, allergies, poor sleep quality, sleep apnoea, etc. Treatments include eye creams, skin resurfacing, and injectable dermal fillers, but before selecting treatment, it is essential to determine the cause of dark circles. It is a common problem often described as "tired eyes". Although dark circles may be the result of ageing of the face, they may appear both in men and women of all ages due to various reasons.
Causes of Dark Circles
According to the medical experts, the possible causes of dark circles include issues relate to face ageing, lifestyle, and other causes, as discussed below:
Facial Ageing
Loss of volume or fat on the cheeks
Loss of volume under the eyes
Lower eyelid sagging
Skin thinning below the eyes
Swelling of the fat under the eyes
Lifestyle preferences
Smoking
Hyperpigmentation due to sun exposure
Caffeine consumption
Alcohol consumption
Lack of sleep
Dehydration
Nutritional deficits
Other causes
Hyperpigmentation due to melasma
Allergies
Nasal congestion
Medical conditions (eczema, thyroid problems, etc.)
Venous congestion in under eye blood vessels
Environmental exposure
Heredity
Treatment of Dark Circles
Before undergoing dark circles treatment, it is important to know exactly what is causing them.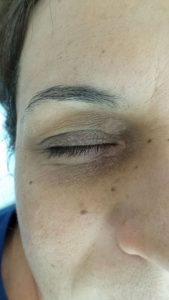 Treatment for dark circles caused by allergies  is different from the treatment to restore fat under the eyes. In some cases, a combination of treatments may be appropriate, especially if there are multiple factors causing the dark circles, which is very common.
The procedures that can be performed in the medical office so as to "erase" the dark circles include the following, starting from the less invasive procedure:
Fractional Skin resurfacing: Laser resurfacing and chemical peels may be used to help reduce dark circles by increasing collagen production, decreasing pigmentation problems, and improving overall skin quality. However, laser treatments and chemical peels are more effective when used as part of a combination approach in treating dark circles.
Dermapen: Regeneration using a special micro-needling device that operates "mechanically" in a similar manner like lasers.
Carboxytherapy: This is a very modern and effective treatment for dark circles and saggy lower eyelids. The procedure is performed through the infusion of a medical gas – carbon dioxide – to the area under treatment using a tiny needle. Both treatment and local oedema (swelling) last a few minutes, and you can then return to your daily routine. To be effective, the procedure should be initially repeated 6 times every week or 10 days.
Hyaluronic acid: Injectable dermal fillers containing hyaluronic acid are often used to correct dark circles caused byunder eye skin thinning or fat and tissue loss in the under eyes or upper cheeks.
Surgery: Blepharoplasty may be an effective way to get rid of dark circles. It has the disadvantage that it is an operation and the problem can reappear after some years.