What type of scar do you have?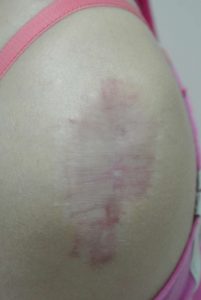 Skin scars appear in various shapes, sizes and colours. These different characteristics depend on many factors, such as how the scar was formed on the skin, whether the healing process is adequate, the personal and family history of scarring, how recent or old it is the scar and where it is located on the body. Similarly, different type of care or treatment may be required for each different type of scar.
General Types of Scars:
Atrophic acne scars, scars due to chicken pox and injuries
Keloids and hypertrophic scars causing swelling of the skin
Types of Scars
Atrophic scars are dermal depressions that occurdue to collagen destruction, or due to the destruction of fat or other subcutaneous tissues. These scars are caused by: acne, chicken pox, surgery, and injuries. Keloids and hypertrophic scars aresolid formations, with local raising of the skin, which is thicker than the surrounding skin. They are caused when the organism produces excessive amounts of collagen during wound healing. They can be removed with surgery, but they may relapse and reoccur.
Treatment for Scars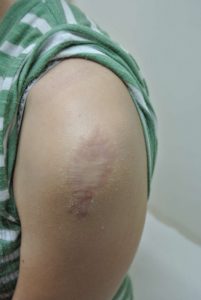 All scars causing aesthetic and functional problem, even the oldest ones, can be improved with the right treatment. New developments in laser treatments have been shown to be particularly effective in reducing scar formation, even when they are present for decades. During your visit at the medical office, you can discuss the available treatment options for your scar. Some of these treatments are:
Book your appointment today
call us on 216 900 5000
Dermapen-Needling , Micro-tattoo
Fractional laser's

Invasive CO2 Lasers cause sublimation of tissues
Non-invasive ERBIUM (FRAXEL, MOSAIC) Lasers are used to remove the superficial layer of the epidermis and the dermis

Collagen injections
Moderately deep or deep acting chemical peeling
Dermabration (mechanical exfoliation)